This post is part two of a two-part series on business process monitoring. Read part one here.
You know that consistent monitoring is key to ensuring critical business processes are optimized and running smoothly. But the idea of monitoring every process all the time — and catching every little thing that has gone or might go wrong — may seem a bit daunting. We'd like to offer five tips for effective process monitoring.
1. Get Clarity on the End Goal
The first step to successfully monitoring business processes happens before you even begin to design the process, itself. Get crystal clear on the purpose of the process. What business problem are you trying to solve? And be as specific as possible. "Supporting the sales team" is a start, but it's not a clear, measurable goal. What about, "correctly tagging leads based on industry, interest level, and expressed pain points in order to ensure sales representatives have the information they need to close more deals." Or, instead of "improving the invoice process," what about "automating the mediation of usage data in order to produce invoices with 100 percent accuracy."
When you're clear on the end goal — when you know exactly what the process is meant to empower — then you can effectively monitor its success. So, for every new and existing process, start by establishing SMART goals that map to desired outcomes. That way, you'll know what you're monitoring for.
2. Determine Success Metrics
In order to monitor whether a process is working, you have to know what "working" means. So, once you've established a process's end goal, the next step is to establish success metrics, or key performance indicators (KPIs), that will enable you to assess whether each step of the process is working as it should. Each process will have its own success metrics, and there may be several for any given process, but we recommend mapping goals to six particular types of KPI:
Cut-off: Whether an activity has been completed by a particular time
Uptime: Whether something is physically active/available/operational
Count: Whether a number of items is less/more than or equal to a control number
Duration: Whether the time taken for a process to complete falls within a control time range
Comparison: Whether the variance between two numbers is less/more than or equal to a control metric
Throughput: Whether the rate of items processed (e.g., transactions) falls within a control range
These metrics make monitoring easier and more effective by establishing objective standards by which to measure success. If each KPI is met, then you know your process is humming along. But if one or more is missed — Did a process instance take longer than it should have? Was a critical feature inactive for any length of time? — then you know it's time to troubleshoot.
Clear and thorough documentation is important for setting up a process and ensuring it's executed consistently, of course, but it's also critical for monitoring it effectively.
Documentation should include the flow of the process, any IT and operation data that supports the flow, business targets, and key metrics. The goal is for documentation to be comprehensive enough that a third party — an external auditor, for example, or another team member — to be able to follow the outline and understand whether performance is meeting expectations. Additionally, when a process does break down, clear documentation makes it easier to track the problem and pinpoint its source.
(Don't forget, as the process evolves due to newfound efficiencies, changing business needs, or shifting customer demands, keep this documentation up to date, too.)
4. Set Up Effective Reporting Methods
Like the process itself, monitoring reports need to be streamlined and intentional, designed to clearly track effectiveness and performance against established KPIs, noting key observations and measuring outcomes against goals. Again, reporting should be comprehensive and consistent enough to make it easy to see not only one-off errors or outcomes, but to track trends over time.
As the team developing the process develops goals and success metrics, they should also establish reporting templates, procedures, and protocols to ensure monitoring is consistent and capturing the right things.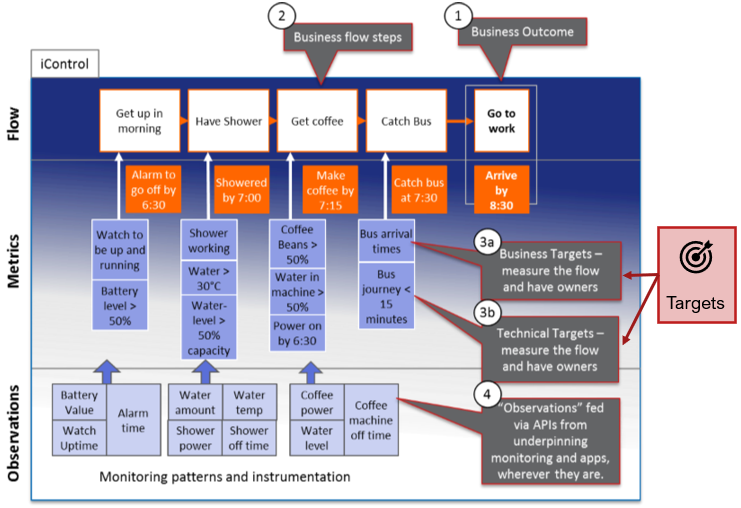 Business process monitoring doesn't have to be a time-intensive manual process — in fact, it shouldn't be. At Conducive Consulting, we use a platform called iControl to give our customers end-to-end visibility into their entire processes and operations, making monitoring a breeze.
We map business processes to IT and operation data in order to model your business processes, and we map your business target to KPIs to track performance (and we ensure each business target has a distinct owner who's responsible for performance). We create monitoring schedules and provide a single, in-depth view into processes and operations, ensuring you're receiving the insights you need, when you need them. All of this ensures that, when an issue does arise, it's easy to drill down into where it started and why, then fix it before it becomes exacerbated.
The results of effective business process monitoring are astounding. Using iControl, we've helped a brick-and-mortar retailer increase revenue and reduce costs by providing transparency into a previously unmonitored inventory management process, removing inefficiencies and increasing accuracy; we've helped a bank resolve process issues leading to missed end-of-day payment deadlines; and we've given an oil trading company clearer visibility into their sixty-component trading process, just to name a few.
If your organization is looking to enhance business processes and monitoring, we'd love to talk about whether iControl is right for you. Contact us today or book a complimentary demo to learn more.