iControl for Splunk
Monitor your business processes and operations. DRYiCE iControl for Splunk is the only platform that gives you end-to-end visibility into your entire business process and operations.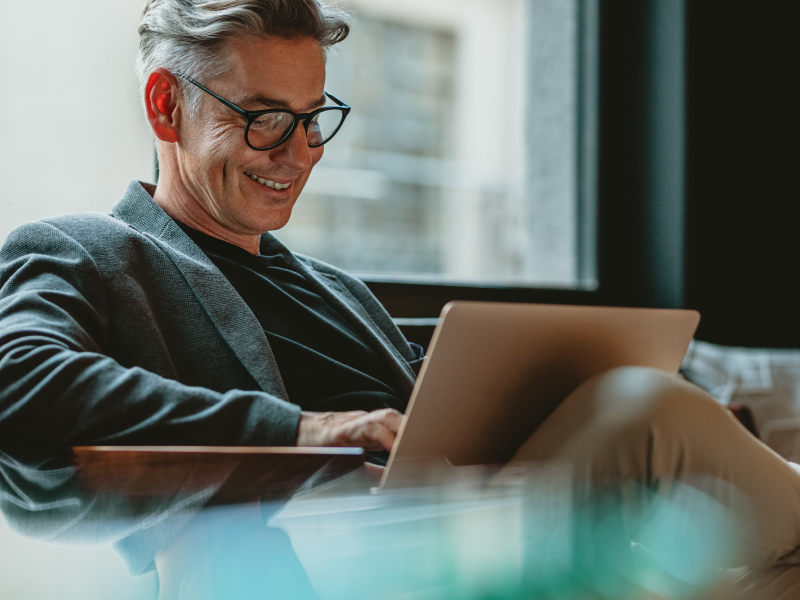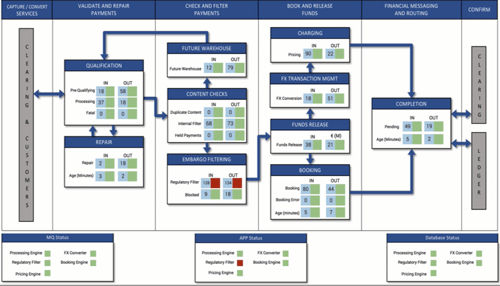 Case Study
Retailer Enhances Inventory Management
A brick-and-mortar retailer managed in-store inventory using a business model used that involved both electronic and human components. While the IT monitoring was sophisticated, the business process was not monitored. This resulted in a few issues.
The end of day inventory file was not always sent on time.

There were frequent data issues resulting in the incorrect order being placed.

End-of-day orders did not match the plan, resulting in excessive inventory.
The retailer started using iControl to stabilize the inventory management system.
Costs were reduced because excess product was not ordered.

Revenue was increased because new products were in stock and available to be sold.

Case Study
Bank Enhances Payments Process
A large European bank was struggling with business process problems caused by technical outages. En​d-of-day payment deadlines were frequently missed, "stuck payments" required manual intervention, and the team spent excessive time resolving technical and business process issues.
The bank implemented iControl to monitor the following high-level business process.
With iControl, the bank was able to identify process flow issues in near-real time, enabling the business to immediately resolve issues (instead of waiting hours or days). Additionally, the bank identified the root cause of common problems and implemented permanent solutions, resulting in productivity improvements and cost reductions.
Identify problems with the business process

Identify root cause of frequently reoccurring problems that lead to business process inefficiencies

Improve productivity and reduce costs by fixing reoccurring hidden issues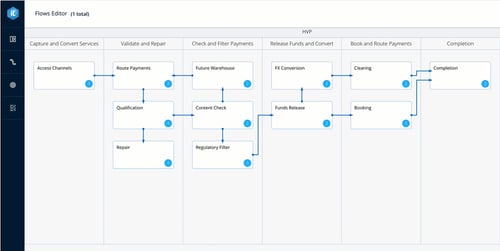 Case Study
Major Oil Company Solves Performance Monitoring
The trading desk at a large oil company had no visibility into the mechanics of their trading process. Each order interacted with more than 60 different components, ranging from pricing confirmation to order version verification. Multiple versions of the same trade could be traversing through the system at any one time. Specific SLA's were mandated for various steps in the trading process.
All of the IT systems were monitored by traditional solutions such as Splunk and AppDynamics, but there was no visibility into how the trading process was operating or if the SLAs were met.
The oil company implemented business process monitoring on top of Splunk to understand how the trading orders were flowing through the trading system.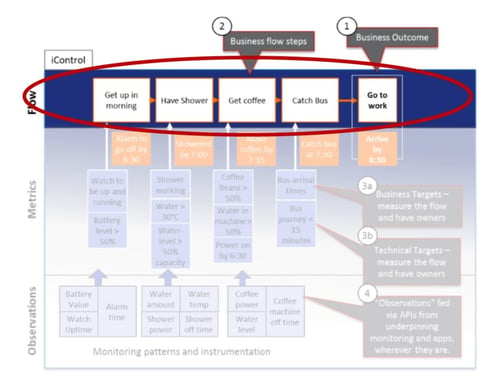 Give business leaders the information they care about.
Business leaders care about their business processes.

Business leaders only care about IT to the extent that it impacts the business outcomes.

iControl gives you insight into business processes and outcomes.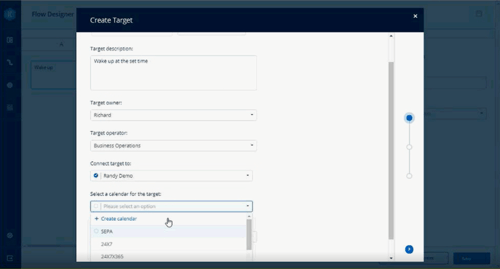 Model your business process.
Start with your business process.

Determine your KPIs and targets.

Map to IT and operational data.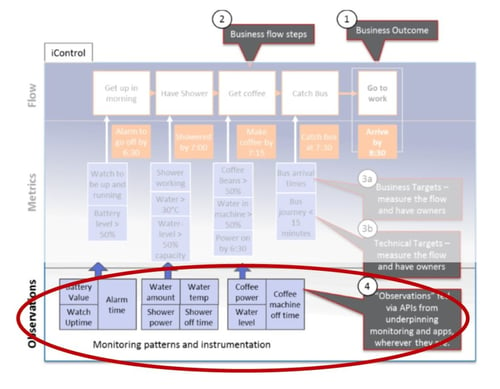 Build on your existing investment in IT and monitoring.
There are two sides to monitoring: IT operations and business process.

IT operations monitoring has been solved, and most companies are doing it very well.

With iControl, you build upon your existing IT monitoring to provide the business with a view into business processes and operations.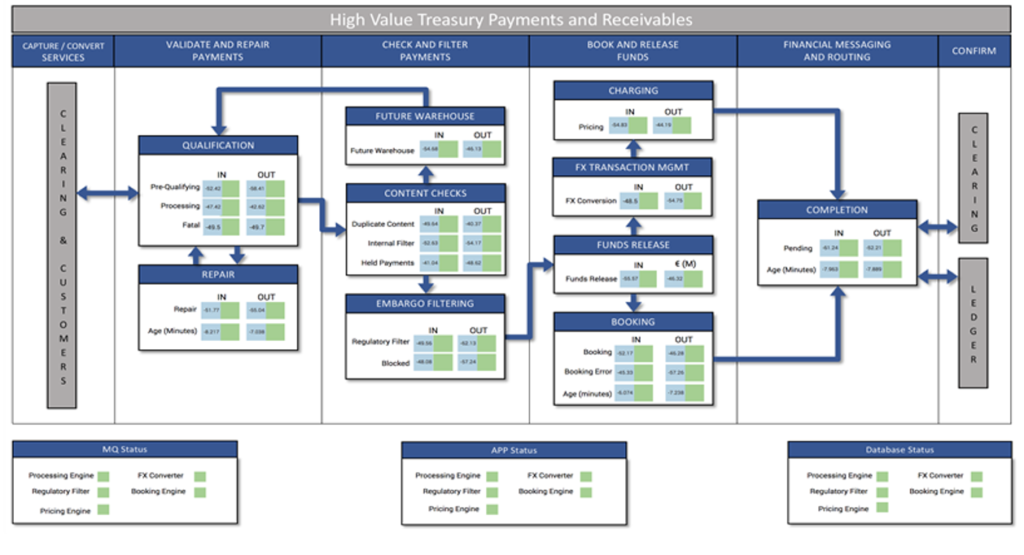 Respond to operational problems with clear ownership.
When problems come up, you'll understand who is responsible to fix it.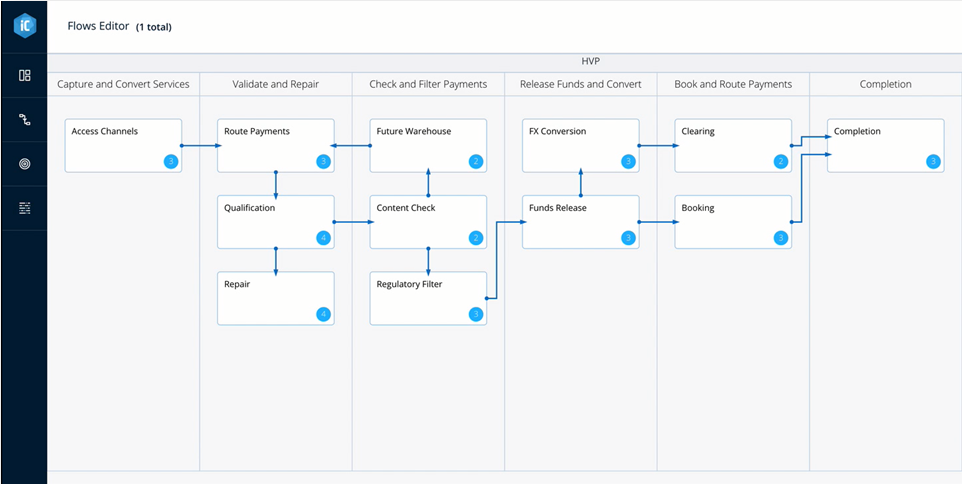 Use a business process flow designer. Different users require different information. While the VP wants to see the big picture, the person who is responsible for an individual step in your process needs more details. iControl provides you with multiple views into your process.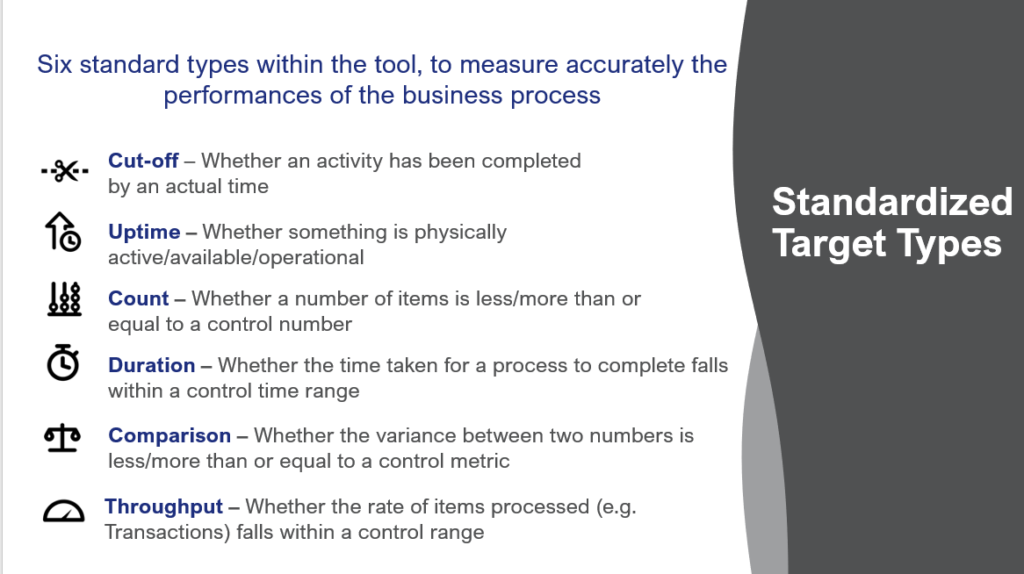 Map your metrics to six standard KPIs. Simplify process design by mapping your targets to one of six KPI types.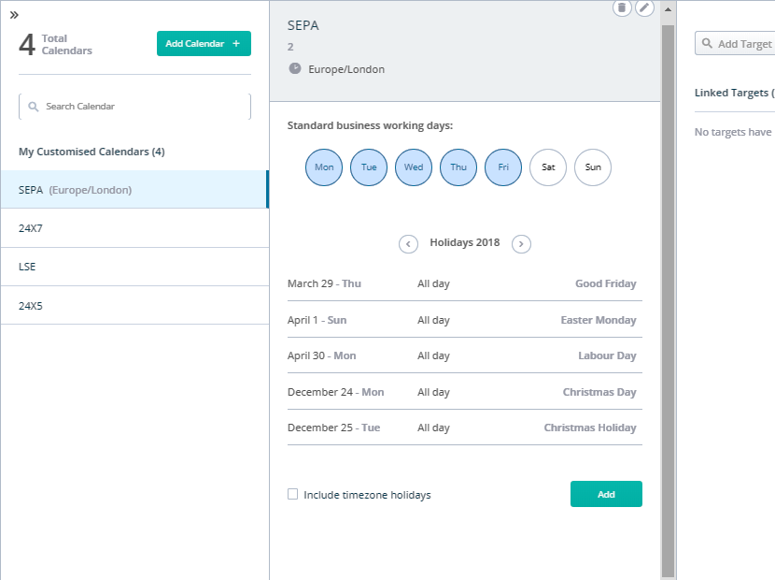 Define monitoring schedules based on business calendar. iControl lets you manage your monitoring calendar to account for changing activity throughout the year.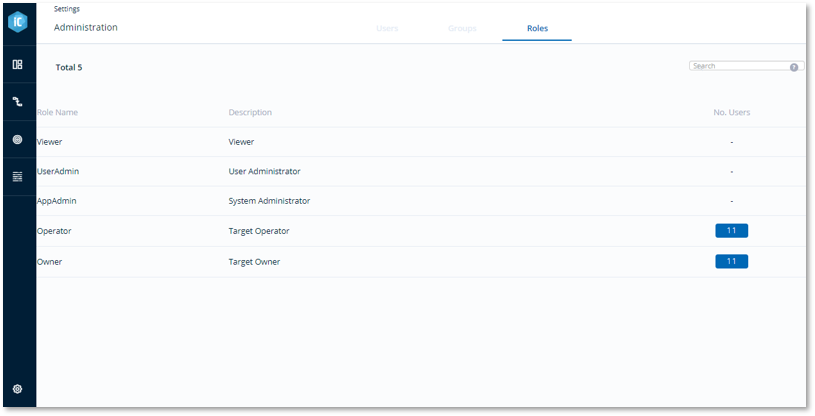 Define control measures. Assign owners and operators to your targets, ensuring there is a person responsible for the target performance and a group to support any issues.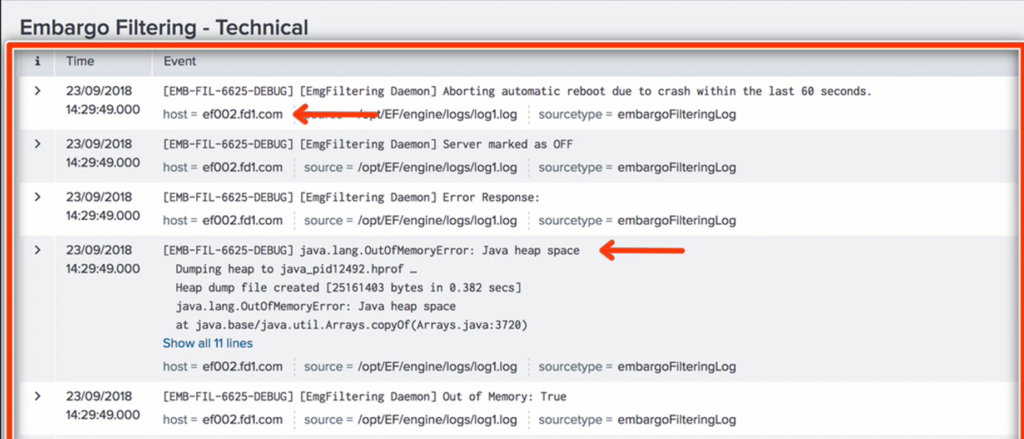 Drill down into the details to solve problems. Knowing that you have a problem is the first step. iControl gives you the details required to resolve issues.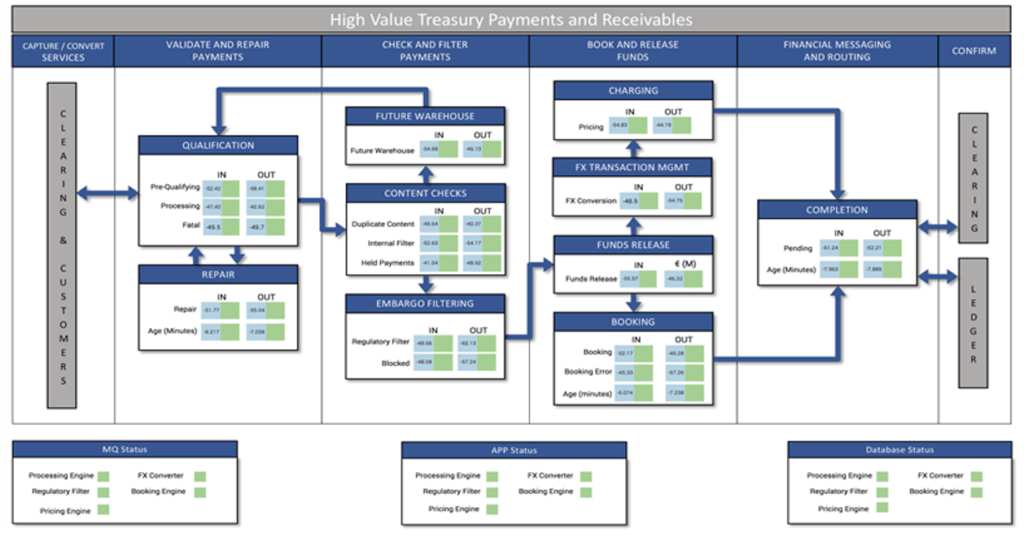 Get a single pane of glass view into your business processes and operations. Understand how your business process is functioning and drill down to the details when problems occur.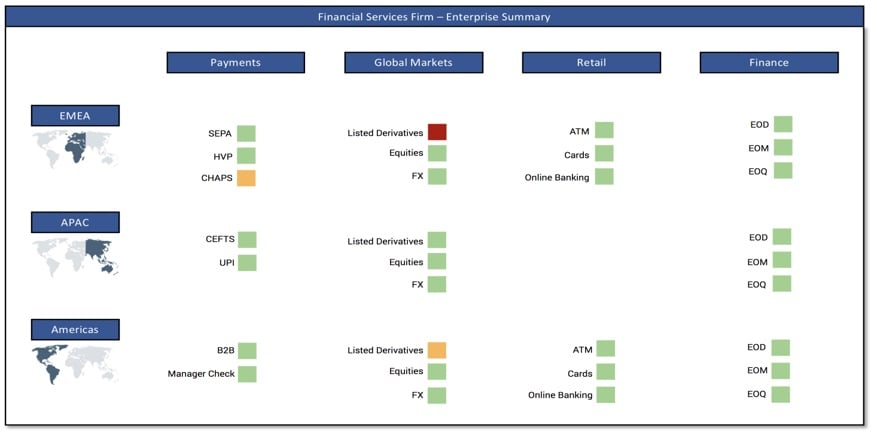 See visualizations for different personas. Different users require different information. While the VP wants to see the big picture, the person who is responsible for an individual step in your process needs more details. iControl provides you with multiple views into your process.
Learn More
Frequently Asked Questions
What is iControl?
iControl is a business process monitoring solution that gives CIOs and business line owners insight into their business and operational processes.
What is business process monitoring and how is it different than "normal" monitoring?
There are two sides to stability: IT operations and business process. Traditional, or normal, monitoring only ensures your IT operations are running correctly. Everyone with IT systems is doing some form of traditional monitoring. Business process monitoring is the next step in monitoring which enables you to understand how your business is operating.
What results will I get from this?
Our customers are seeing more stability and efficiency in their business processes, as well as better risk management and improved client perception.
What do I buy from you?
Conducive has been helping companies derive business value from their data since 2006. We have been been a Splunk partner since 2012. We are a technical company that understands business.
What happens if I wait?
Your business will operate as it currently does, but you won't have the insights into your business processes that could increase your operating stability and reduce headaches.
Is iControl available in the cloud and/or on-premises?
Conducive provides a cloud version of iControl, or you can host iControl on your own servers.
How is iControl different than Splunk?
iControl is a Splunk application that leverages Splunk's unique data collection and searching capabilities to monitor your business processes in addition to your IT systems.
Is iControl different than ITSI?
iControl is similar to ITSI but focused on your business processes instead of your IT stack.
How long does iControl take to install?
Conducive can be install iControl in your data center in less than one day.
iControl can be up and running in less than 30 minutes in Conducive's cloud environment.
How long does iControl take to configure?
Configuration follows our proven methodology which maps your business processes to your IT and operational data. This process can be completed in as little as two weeks, but the timeline is dependent on your business requirements.
Do I need Splunk to use iControl?
Yes. iControl is a Splunk app and requires Splunk to operate.
What if I don't own a Splunk license?
A Splunk license is included in your iControl purchase.
How do I present this to my team?
If you are presenting to your team without us, we suggest showing them this video. You should also explain to your team that this is the next-generation solution that moves monitoring out of IT and into the business, giving the business insight into processes and operations.
Resources
Insights from Our Blog
You are fully protected by our 30 day money back guarantee. If you are not satisfied with your purchase, for any reason at all, simply contact us within 30 days of purchase and our helpful support staff will promptly issue a refund.